Almost seven years after Apple originally sued Samsung in 2011 for infringing its smartphone patents, the Federal District Court in San Jose, California has given its verdict that Samsung pays US$539 million to Apple for using Apple's Utility and Design patents. This includes US$533.3 million for Samsung's agreed violation of Apple's design patents and US$5.3 million for Apple's utility patents.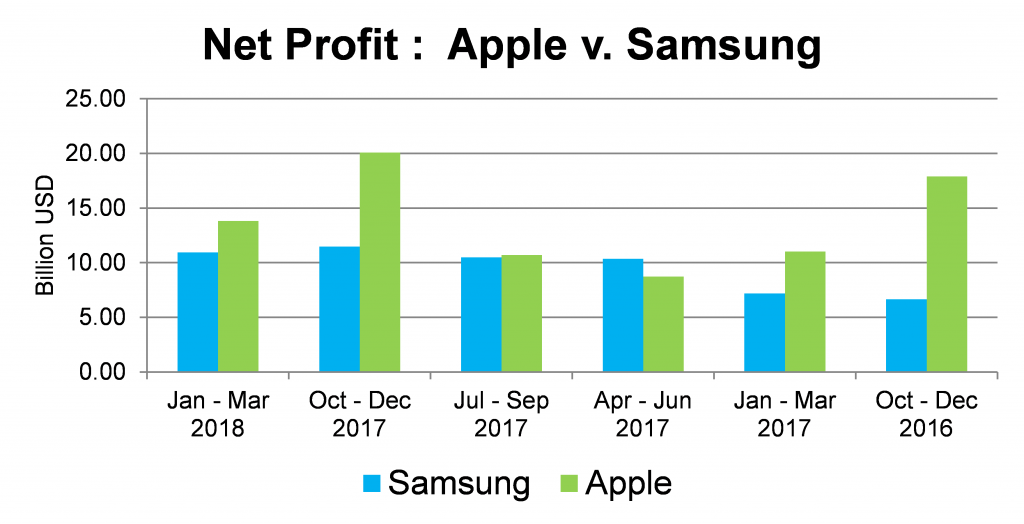 Considering Samsung's net income of US$10.95 billion in Q1'2018, i.e. the profits made by Samsung in the three months period of January to March 2018, equivalent to US$3.7 billion in one month, which comes out to US$120 million net profit each day, it requires Samsung's just 5 days' income to repay the US$539 million amount and the attorney fees.
In a verdict in December 2015, Samsung already paid US$548 million to Apple that included US$399 million for infringement of some of the patents at issue in this week's trial.
If Samsung does not wish to further appeal the verdict, then Samsung would pay to Apple US$ 539 million minus US$399 million they have already paid, which effectively comes out to US$140 million to be paid now, a little over the daily income of Samsung.
Last Six Quarters Revenue, Operating profit, PBT, and net income
Samsung
Apple
In Billion US$, all Samsung values are based on current KRW US$ rate
Last Six Quarters
Revenue
OP
Profit Before Tax
Net profit
Revenue
OP
Profit Before Tax
Net profit
Jan – Mar 2018
56.72
14.65
15.15
10.95
61.13
15.89
16.17
13.82
Oct – Dec 2017
61.80
14.19
15.64
11.48
88.30
26.27
27.03
20.07
Jul – Sep 2017
58.12
13.61
13.96
10.48
52.58
13.12
13.92
10.71
Apr – Jun 2017
57.13
13.18
13.50
10.35
45.41
10.77
11.31
8.72
Jan – Mar 2017
47.35
9.27
9.52
7.19
52.90
14.10
14.68
11.03
Oct – Dec 2016
49.95
8.64
8.94
6.64
78.35
23.36
24.18
17.89